Carpeting: Carpeting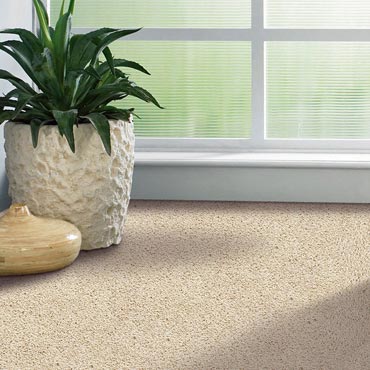 Carpet is a soft floor covering made of bound carpet fibers or stapled fibers. Carpeting refers to wall-to-wall coverage, whereas a rug is simply used to cover a space. This type of flooring is typically used indoors and can be used in both high and low traffic areas. It typically lasts for 15-18 years before it needs to be replaced. The quality of a carpet is usually measured in face weight, or how many fibers there are per square inch. The higher the face weight the more plush a carpet will feel.
Carpets come in a variety of materials including wool, nylon, olefin and polyester.
There are different types of carpet like twists, which is commonly referred to as a berber. Twist carpeting is composed of multiple twisted fibers set into the carpet backing. It is typically used in low traffic areas. Another type of carpeting is looped carpets, which are composed of looped fibers set into the carpet backing. This type of carpeting is typically used in high traffic areas as it is easy to clean.
Brand Overview
---

---
Profile
|
Website
More than anything, carpet manufacturers like Mohawk have your specific lifestyle in mind. That's why we innovated the softest, most family-friendly and pet-friendly carpets ever. Our carpet stands up to high-traffic wear and resists life's spills and stains like never before. With so many colors and textures to choose from, there's no reason to put off buying new carpet. With Mohawk, you're sure to find carpeting that suits both your lifestyle and your budget.
---

---
Profile
|
Website
Beaulieu Residential, your complete decorating resource, now has a collection of carpeting in a dazzling range of colors and styles. You can be confident that your choice of floor covering will blend perfectly with the fabrics and furniture style in the room, creating an appealing and harmonious setting.